Friday, October 18th, 1985
---
9:00 am




wilkommen, bienvenue, welcome !
current mood:
tired
Monday, October 28th, 2013
---
7:33 pm
- Teenage Muutant Ninja Mutant Ninja Turtles
Oh Lord, how I love these things. I used to have the entire 1988 set (first editions, rubber heads), but I left them in some crackhouse I was staying in Asheville, NC to go yvan eht nioj. I started collecting them again last year,and not just the first editions, and now they're in custom cases ! I got body-less Krang (right) and some comics (new and vintage). I can't wait to get the rest of the first and second waves, when I get some $$$. For now, I'm psyched on these !
current mood:
nostalgic
Sunday, October 27th, 2013
---
3:06 am
- Welcome to Limestone, Maine
Limestone is right on the border of Canada and I went to Job Corps there. I'm going to be posting about my time at Loring Job Corps Center a lot, just for posterity (I'll back up this journal so it's more like a "real" journal, maybe print out a copy when I'm done) ...
so be prepared for some St. Olaf stories.
Oh, and I've been reading yr journals -- so cool that you guys still use them ! -- and I want to comment but I never know what to say, you're all So Sophisticated.
:(
(
But I got a tattoo !
Collapse
)
Never thought I would but there you have it !
current mood:
awake
Saturday, October 19th, 2013
---
7:43 pm
- We Were In A Magazine
When we went to see Pandora Boxx many moons ago, some photographer from this magazine...








...started taking pictures of us, and we were so blasted we encouraged it, so as much as I hate having my picture taken I was down at the time. (We were among the cutest couples there, after all !) Unfortunately, I was so far gone that I looked like someone who didn't have control of their cognitive faculties, and my extreme faggin' out surely didn't help at all. Here's the picture that was in the magazine but I made it black and white because I looked busted enough: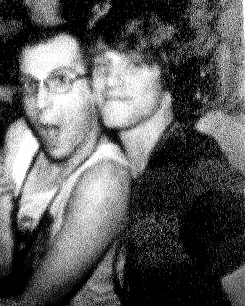 Lord knows how many people saw it, and I shudder to think. BUT HOW KOOL IS IT THAT WE WERE IN A FREE GAY MAGAZINE !!!

current mood:
tired
Friday, October 18th, 2013
---
5:31 am
- 10 Years Ago In Arooststook County, Maine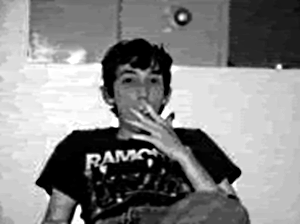 Happy birthday !
current mood:
nostalgic
4:24 am
- Current Reading List


The Secret Diary of Laura Palmer, Jennifer Lynch (with new e-book material !)


Bonfire of the Vanities, Tom Wolfe


Harry Potter and the Prisoner of Azkaban, J.K. Rowling


Goosebumps: Welcome to Dead House, R.L. Stine


Battle Royale, Koushun Takami


Mugged, Ann Coulter (!!!)



PS: DeadJournal now costs money. Idiots. (And Blurty is still down !)

current mood:
tired
Thursday, October 10th, 2013
---
5:50 am
- She's My Rock.... of Love

i almost forgot that heather from ;rock of love' and i are pretty tite on twitter !
current mood:
tired
Saturday, September 28th, 2013
---
12:43 pm
- Tomorrow !
7:37 am
- I've seen troubles... I've seen pain... I've seen whoa whoa whoa... !
current mood:
anxious
5:01 am
- The One Where My Neighbors Threaten To Kill My Dog
With the help of a veteran's charity, I moved into an apartment a few weeks ago. Since they aren't willing to pay a lot of rent (and understandably so), my options were limited to about four places to begin with. I was so desperate to get off the streets that I got the first apartment I saw, and honestly it looked pretty nice, safe, and clean at first. The area is poor, and I expected that, but I did not expect to be harassed by crack dealers every time I took my dog for a walk. I've been harassed every single day, or at least whenever they see me; it's the same group of cocaine thugs and some of them are just messing around (more on that in a minute) but at least one or two are absolutely disgusting, vile little shits and since my dumb ass signed a 13 month lease that I can't afford, I've been reporting whoever talks to me to management so I can break the lease and move as soon as I get a job. The last incident occurred when I was walking Nia so she could take a crap and this vato motherfucker walks right up to her (on her leash, which I was pulling back) and tells me,
"I hate your dog. I want to kick it in the head."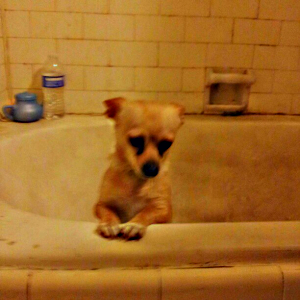 I'm at a loss as to what to do. These guys are fucking with me because I have a chihuahua -- traditionally a feminine dog -- and that's all they need to hassle me, a grown ass man, because they perceive me to be gay (which I am, but they wouldn't think twice about it if I had a pit or something), or at the very least feminine, not "manly" enough, so in their reptilian brains, their harassment is justified -- I couldn't tell you why exactly, it's their reptilian brains. I can't be 100% sure who they are or where they live, but I know they run a pretty scary drug operation (even by my standards) in the complex. Honestly, I'm scared to push management because they might be facilitators themselves, and I'm afraid of any possible repercussions if I file a police report. I never thought I'd say this, but I wish I had a gun.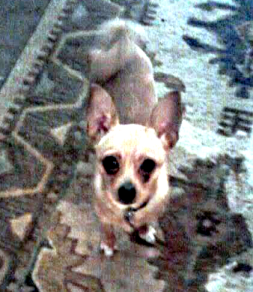 Tucson sucks. Don't come here.
current mood:
enraged
1:07 am
- The Threesome That Never Was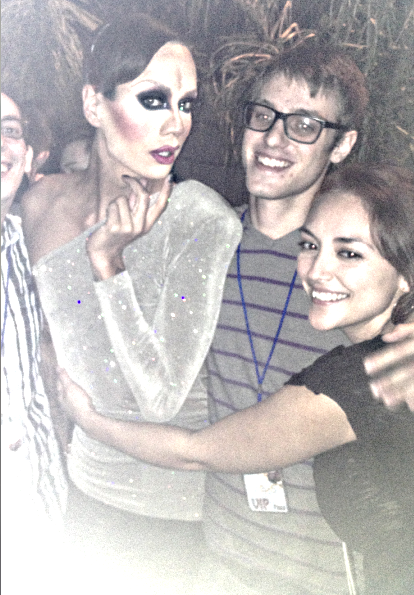 l-r: my ear cos my face busted, raja gemini, my baby, a cool chick who let us take the pic of us
A few months or years ago, my sweetheart
krisoberz
+ I had the honor and privilege of meeting
Raja
and
Delta Work
and it was one of the greatest times of my life. They hosted a party -- not too much lip-synching -- but who cares? They were both so down to earth and friendly and blah blah blah they didn't call me ugly. Delta, for her part, was super nice, and I wish we could've got a picture with her, unfortunately my camera was dead (hence the cool random chick letting her use her camera to get a picture with Raja). (Actually I think I have pictures of us on another computer. Hmmm.) Raja asked Kris and I if we wanted a threesome, and we were down as fuck but he was high as shit and JUST PLAYIN' ANYWAY
:B
At least we got
(
these:
Collapse
)
(
...and we mopped up this poster as we were leaving:
Collapse
)




I know most of my posts have been very drag-centric lately, so here's this:




BREAKING NEWS !!! ♥


current mood:
awake
Friday, September 27th, 2013
---
11:49 pm
- A Sense of Community

current mood:
accomplished
10:40 pm
- Amanda Bynes Blocked Me On Twitter
Sunday, September 22nd, 2013
---
6:21 pm
- Memories, pt. 1
My first graphic design project at Job Corps:
current mood:
nostalgic
4:55 pm
- I'm baaaack
current mood:
chipper
Wednesday, June 5th, 2013
---
12:07 am
- Wynne Greenwood Telling Me To Stop Taking Pictures:
april 6th 2004 @ ps211 / winston-salem NC
current mood:
nostalgic
Thursday, May 30th, 2013
---
5:16 pm
- ⇦DRAGSTRAVAGANZA⇨
krisober
and I have gone to a lot of local and
#RPDR
-hosted drag shows and the first RPDR-related show we went to see was
Pandora Boxx
at our favorite bar -- when we have a car or cab fare --
Woody's Bar
(home of the cutest, friendliest bartenders in all of Tucson !) ... oh what a memorable night I think that possibly was! Here are a couple pictures of
krisober
and I on God Knows What meeting and greeting her before her show:
(
pictures under the cut !
Collapse
)
pandora boxx werking
We left the show with some pretty cool stuff signed though:
(
drag swags
Collapse
)
THEN
, we saw the lovely, gorgeous, talented, and humble
Chad Michaels
at the same bar a couple months later. Here's a great picture of me and a terrible picture of my boyfriend posing with the winner of
RuPaul's All Stars Drag Race:
Now Chad ... Chad was
amazing
. We got VIP tickets for that show too, so we could hang around in the bar and rub elbows with all the lesbians before the show (the place was packed with 'em) ... but before we got the chance, he walked over and started rubbing elbows with
US!
He was super down-to-earth (this was before he won
All-Stars
, after all ;D), and I felt like I was gonna shit just absolutely everywhere. But like he said, "I'm just another fag in drag, honey." We didn't believe him, though :
current mood:
amused
Thursday, May 16th, 2013
---
12:43 am
- Tipping Chad Michaels + How I Feel About Certain Electronical Shit
I haven't gotten around to collecting all our drag pictures yet, but Kris and I have gone to a ton of drag shows together. When we go out, it's either to the movies or a drag show. Here's a video of us in the front row tipping
♥Chad Michaels♥
that I'll put here so the next post can be 56k-friendly (as all LJs once were) and because there may be people on here I haven't bragged about it to yet!
Behold:
filmed by me w/ my boyfriend's potato
Anyway, there are two consumer electronic devices that I l♥ve and use all the time and want everybody that could be using them, to use them:
e-readers
and
e-cigarettes
. These are two things that are seriously way better than their analog counterparts, and since I've been incessantly obsessing over both of them to my boyfriend, I figure I might give him a break for a while and share my undying praise for these goods with you all tonight.
1) e-readers
I find it really difficult to get into a novel, and I'm so used to reading off of screens that reading actual physical books takes a lot more effort than it used to. But pretty much every problem that I've used as an excuse to not read is solved with the Kindle Paperwhite Kris got for me. The built-in touchscreen dictionary is already indispensable in my reading habits, and the time estimates for finishing chapters is not only convenient, but motivational in way. On the home screen, there are progress dots underneath each book and I think of each dot as, like, an XBOX achievement trophy... I don't want to go into more detail because it makes me sound like such an idiot. The real kicker to the Paperwhite, though, is that it has a front-lit screen. What really had been holding me back from getting an e-reader much earlier was the lack of lighting, front or back. I just thought it was ludicrous that you needed a clip-on light like it's the friggin' 90's. Well, the Paperwhite solved that super obvious problem and now reading in the dark is easier than it's ever been. I was talking to my mom the other day, and I mentioned to her how much the quality of both our lives would have improved had I had one when I was a kid, especially since the battery lasts for months between charges (we used to go on very long road trips up and down the east coast all the time back then, and the nights became tortuous as soon as my Game Gear battery pack ran out of juice). I'm in the middle of reading
The Hunger Games
trilogy :B
2) e-cigarettes
I'm not talking about the"green Nicotine" or "blu" or any of the ones with cartridges because those are garbage. I'm talking about rigs with a battery, an atomizer/clearomizer/whatever and a drip tip, where you press a button an sweet sugar vapors fill your lungs with smoke- and tar- free nicotine. The only time I've smoked since I started using them was when they broke and I didn't have enough money to get a replacement battery or atomizer, or don't want to take the bus (ugh). On top of my nicotine now tasting like banana Laffy Taffy, it's so much cheaper overall than smoking. The initial rig usually costs around $40, but the """e-juice""" is cheap as hell and lasts forever. Even if you paid $55 a month for everything all over again with nearly a month's supply of juice, it's still cheaper than cigarettes. It has all the positive benefits of quitting smoking, like less stinky clothes and hair, and cleaner hands, and lungs, and all that shit, but you still get to puff on thick vapor that mimics smoke almost completely, and dissipates quickly, before someone who wants to be bothered by it even gets the chance.
I can't believe I wrote all that.
memroies
current mood:
relaxed
Wednesday, May 8th, 2013
---
1:25 am
- -__& <good nite lj)
I just got the biggest rolling wave of nostalgia remembering refreshing my Friends List obsessively back in the day, and how there always seemed to be a good reason to be checking it. I wish more celebrities had used LJ (besides
evandorkin, of course). Ironically enough, this entry could have been a tweet (& quite honestly it may become one yet; I think I have a disease).



r u serios



We've got a lot of catching up to do, LJ. Tomorrow will be an IRL drag queen show-and-tell -- there's a picture of RAJA (of RPDR and ANTM fame) posing with Kris[topher] and I that I haven't posted everywhere yet for some reason...

& speaking of RuPaul's Drag Race, good news:








current mood:
tired
12:42 am
- username: hunnyrider